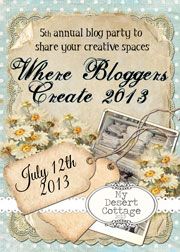 this is just the push I need to tidy up & organize the sewing room, it might get so spiffy I'll have to call it a studio lol!even Clarice is excited!
she hasn't wanted to change out of her Ball Gown since the Dress Form Ball but I just know  when she see's the new gown I have for her for this special ground breaking of the sewing room she'll be so excited!
seems like there's so many knick picky little things I want to do lol!humm is my biggest problem "many" o r "picky" lol!there's 30 days to get it together & get those pictures posted
if you'd like to join in ,visit
 http://www.mydesertcottage.com/2013/06/are-you-ready-to-be-inspired-again.html
and sign up, now that my daughter is home from China, things will get back to normal in the sewing room soon, I'm itching to get back to my scrappy quilt, there's some catching up to do for  the wardrobe challenge over at my Nannas Place blog,I'll keep you updated on the many knick picky little things lol!
oh just incase you're interested, the new Create & Decorate magazine is out
if you cant find it in the stores you can order it here  http://www.createanddecorate.com/