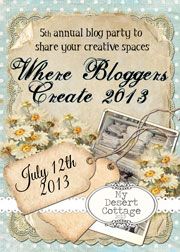 Welcome to my sewing room, here you will find me either sewing, crafting, painting, quilting & sometimes just daydreaming having my morning coffee lol!
the corner where it all happens lol!
the cross stitched hoops were made my my sister ,the raggedies on the ends are crackeled I purchased at a craft show years ago, the others are form my sister-n-law through the years
over ten years of collecting Raggedy &Andy
quilt blocks I'm working on  for a trip around the world quilt
every town we go to Hubby finds a hardware store & gets me a yard stick, I'm getting quite a collection
yummy fabrics waiting to be turned into something cute for the sew your own wardrobe for a year challenge
homespuns for my raggedies, Belindy was made by a sweet friend
yes you saw a tree & no it's not Christmas lol I belong to a craft forum ( Prim Mart) & this is 5 years worth of Christmas ornie swaps & this isn't all, I'm missing a box lol!I like them out because they make me smile
what men wont do lol! hubby bought this puzzle  way back & took it to work & all they guys worked on it during breaks lol!
I seen on Pinterst  a tutorial ,how to tint jars, I loved the results, the 2 aprons on the left I found at antique malls, the one on the right was originally a curtain panel & I turned it into an apron
Clarice is one happy gal in her new gown, I'm glad I painted the shutter green, the white just wasn't happening for the gown
just enough room for a sweet space between the two closets
my teapot collection
a few ornies I'm working on for this years Christmas show
it's hard to get an all overview of the room so after the sun went down a little I went back in & stood inside the closet  to get a better shot
be sure to visit My Dessert Closet for more fabulous studios  http://www.mydesertcottage.com/