I think I'm getting a  clear picture as to why this blog  didn't get much action, as I went through my follower list over half has not blogged in 2-3 years, many no longer follow me "sigh" so I've taken a deep breath & looked at this blog a little closer, with show time a dew months away there'll be lots of cutting, sewing, stuffing, painting, staining, & messy days ahead but first I think I'll jumpstart this blog with linking up to Where Bloggers Create
in just a few weeks it'll be time for My Dessert Cottages 7th Annual "Where Bloggers Create" party, just in time to show off the new sewing room, you would think having  a bigger space would be easier to decorate but it's like I have too much space, is that possible? lol!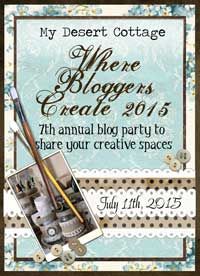 but I'm filling it up quick , I don't quilt  that much but after seeing so many pretty design walls I felt the need to need one, use up space don't you know lol!
I even have room for a cutting table now!
my raggedy  memorabilia went up high, with the help of my daughter a safe place for little hands that don't understand why they can't hold the baby's lol! having a tall daughter that will stand on a ladder is a good thing lol!
another good thing with so much space I have room for a sitting area , I'm working on that blank wall!
be sure to save the date for WHERE BLOGGERS CREATE July 11th
http://www.mydesertcottage.com/2015/06/its-party-time-again.html
I will be linking up with My Desert Cottage  for Where Bloggers Create from  my blog NANNAS PLACE