With just  three days away for the  WHERE BLOGGERS CREATE linky party to kick off there is sew much to do
tin cans, glass jars, cloths pins,are  a few things I'm playing with
I have a special surprise for Clarice, a few months back our church had a yard sale & I bought one of these wedding gowns,it's a surprise  as to which one till July 12th!
organizing is taking place!
bring one new thing into the sewing room & everything goes haywire lol! my new dress form seems to have been on every wall, every corner  hummm where to put her, what to dress her in for this special day, what to name her?
Clarice is keeping her eye on her making sure she doesn't take her spot , but once she sees her surprise  she wont mind where she is lol!
well guess I'd better get back to the sewing room as there's much to be done, I don't wantta be late for this very important date!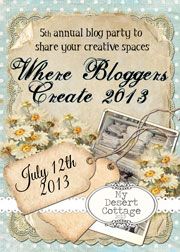 http://www.mydesertcottage.com/2013/06/are-you-ready-to-be-inspired-again.html