http://stitchingcubbyhole.blogspot.com/
who doesn't like to get into things? lol!I especially like to get into things that will prompt, encourage,inspire & push me whether it's to finish or get busy on a project that's been in the back of my mind for a long time
the quilty barn along over at
http://beeinmybonnetco.blogspot.com/2013/07/the-quilty-barn-alongsilo-barn-3-and.html
no more new quilts for me till I finish my scrappy quilt lol! I have nine blocks so far & going for a lap size quilt, just big enough to snuggle with
does Pinterest get your creative juices flowing, whether it be sewing, crafting, cooking etc. there's' a party for that! lol!
http://betterlifebags.com/2012/07/02/pinterest-challenge-link-up/
I've been too busy to get into too many new things, as we're clearing off & clearing our place & still cleaning tornado damage, so the main things I'm working on for now is my scrappy quilt
the biggest thing is getting ready for is the big reveal party over at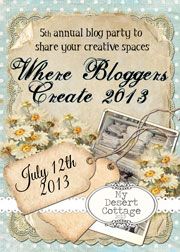 http://www.mydesertcottage.com/2013/06/are-you-ready-to-be-inspired-again.html
less than a week away & I'm messing up the sewing room faster than I can tweak it with all this sewing lol!I have plans for my old screen door, shutters etc. like I have any more  room in there lol!but it wont stop raining  enough for me to paint & fluff the big projects, do you need some rain? please come  get all you want lol!